Reputable Merthyr Tydfil Tarmac Surfacing Contractors for All Projects
Jordan Surfacing is a local tarmac company that offers a range of services on Merthyr Tydfil and beyond. Tarmac surfacing is a speciality that we have spent years cultivating.
We have trained surfacing experts who you can hire for a range of projects. From domestic driveways to commercial car parks, you can trust us to deliver high-quality services.
For every tarmac surfacing service, we have the right professionals to handle it. Our tarmac surface contractors handle individual projects with unmatched attention and dedication.
Explain the goals of a project to us, and we will deliver them. We offer bespoke solutions for tarmac surfacing projects.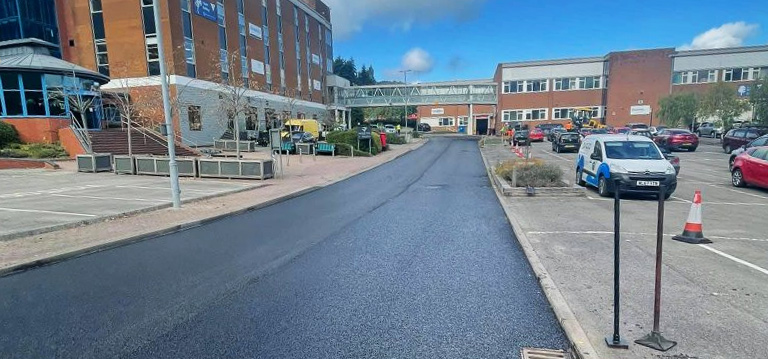 A Range Tarmacing Services Provided in Merthyr Tydfil
Our tarmac contractors have versatile kills that enable JSL to cater to a diverse category of needs. Car park surfacing and resurfacing in Merthyr Tydfil are some of our services.
Car Park & Road Surfaces
We create car parks that can handle constant use and heavy traffic. Contact us to tarmac a new car park or repair an old one.
We are also equipped and experienced in asphalt surfacing. If you have a road that requires maintenance or repairs, our road surfacing experts in Merthyr Tydfil can help.
We fix potholes and leave road surfaces looking well-kept. Hire us for tarmac patching and other reinstatement solutions.
Our contractors work on race tracks, private roadways, motorways and other road surfaces. We are the go-to company for domestic and commercial tarmac driveways.
Tarmac Driveway Installers in Merthyr Tydfil
Modern tarmac driveways give you a lot to work with. They are available in a host of materials, designs and colours. Whether it's a new driveway installation, maintenance, repair or replacement, Jordan Surfacing is the right partner for tarmac driveways in Merthyr Tydfil.
We have a host of solutions, like seal coating, crack repair and waterproofing. All of our tarmac drives are built with high quality tarmacadam. Tarmacadam is made up of several ingredients, including crushed stone, cement and fine gravel.
The mix is rolled out before it's baked at a high temperature to form a stable surface, not easy to crumble or disintegrate in the long term. Tarmac driveways are constructed for stability and durability that will not go away over time.
Why Choose Us For Tarmac Surfacing
The biggest worth you get from hiring us is superior standard service. We have trained a.d certified tarmac contractors who have a unique understanding of the industry.
Whatever the project, our contractors abide by industry regulations, ensuring tarmac surfaces are safe for their intended use. Our contractors are available around-the-clock for both domestic and commercial applications in and around Merthyr Tydfil.
If you require emergency tarmac repair or replacement, we will respond in the shortest time possible. Clients can expect long-lasting surfaces because we use top-shelf materials. We source supplies from the best around the UK.
Our contractors also use the latest techniques and equipment. Our competitive prices are another reason to check out our offerings. We quote services honestly to make sure that clients get the best rates.
Contact us to hire tarmac surfacing contractors in Merthyr Tydfil. Leverage our friendly, professional and dependable services to get the perfect surfaces for your project.
We also provide our services to the following areas and postcodes in Merthyr Tydfil;
Bedlinog, Cyfarthfa, Dowlais, Gurnos, Merthyr Vale, Pant, Penydarren, Treharris, Troed-y-rhiw & Vaynor.
CF46, CF47 & CF48