Dependable Tarmac Specialists for Domestic & Commercial Applications in Monmouth
Tarmac surfaces are wildly popular because they are uncomplicated and cost-effective. The durability of the material guarantees excellent service for several years, even with constant use. However, the construction of tarmac surfaces matters a great deal.
A functional tarmac surface requires skill, and that means investing in talented tarmac specialists. Jordan Surfacing LTD is a tarmac company that offers a broad range of services in Monmouth and the surrounding regions. We provide tarmac surfaces to suit different environments.
Are you a mall owner in need of a car park? Do your neighbourhood roads need repair? Is your residential property missing a driveway? JSL can handle all of it. We have experienced, certified and insured tarmac surfacing contractors. Trust us with tarmac surfacing projects of any size in Monmouth.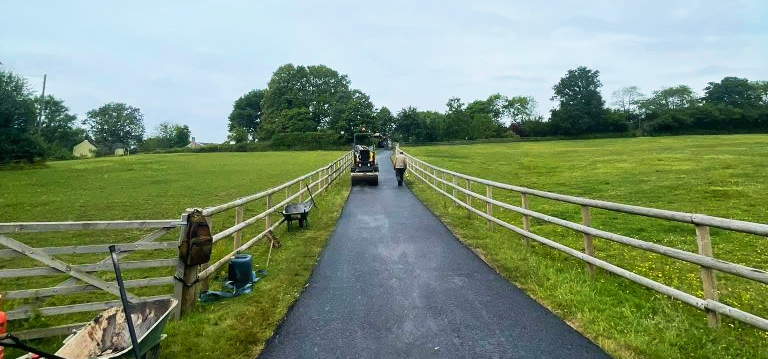 Tarmac Driveways in Monmouth That Make A Statement
A driveway can boost the value of a property or ruin the aesthetic entirely. It's why you should contract professionals to construct tarmac driveways in Monmouth. JSL has driveway construction experience that spans years.
Our contractors have put up driveways in private, public and commercial environments across Monmouth and beyond. A tarmac driveway is a practical investment because it is weatherproof and low maintenance.
We can complete your driveway in whatever style you prefer to get the most from it. If you have particular design requests for your tarmac driveway, our contractors will incorporate them accordingly.
Besides driveways, you can hire us to create paths to a property. Our contractors factor in the landscaping to ensure that the installation blends in.
Long Lasting Car Parks
Car park surfacing is another area where we excel. Our contractors can undertake a full project from the design to the installation, from the sub-bases to the road kerbs.
They have experience with various types of car parks, such as multi-storeyed office buildings, apartment complexes and shopping centres.
If a car park in Monmouth requires resurfacing, call us. We guarantee smooth surfaces, complete with the necessary markings. Contact us to build new car parks or extensions. We create safe surfaces that can serve users for a significant period.
JSL is equipped to handle road maintenance and repair in Monmouth and other areas. Hire our contractors for hand- and machine-laid road surfacing as well.
We repair potholes and ensure that a road is safe for users. Leverage our competitive rates and consultations services to drive your project to success.
Contact us for tarmac contractors with unique insights into the needs of clients. Get the best experts for your car park, driveway or pothole repair project, among others.
We provide our tarmac services across the entire NP25 postcode and surrounding Monmouth towns such as Wyesham, Dixton, Obaston and Rockfield.
Overview of Our Tarmac Services in Monmouth
As a reputable tarmac company in Monmouth we are proud of the vast variety of asphalt solutions we are able to provide for both domestic and commercial customers. Below are just the main services we can offer, if you require a bespoke solution, please feel free to get in touch.