Not only do car parks represent an essential element within any commercial property, but their condition will often reflect upon the owner or company in question. This is why the concept of maintenance should never be taken lightly. Let us look at three professional suggestions which will ensure that no unexpected issues occur.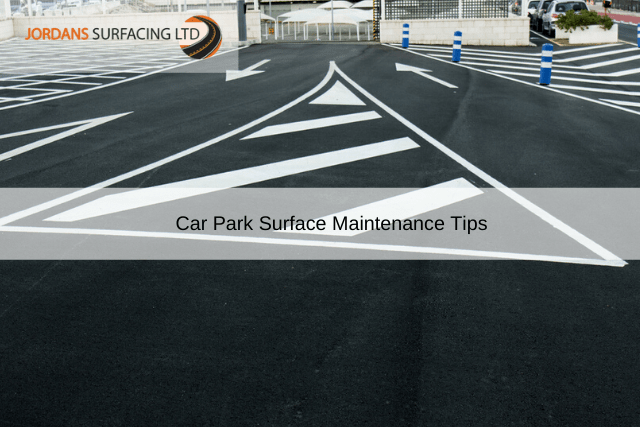 The Importance of Resurfacing
Is car park surfacing important? Each day car parks get used by lots of people and car park surfacing needs to be regularly checked. This is especially so if you own a business that has car parking facilities for customers and/or employees, as it can affect the perception of your business.
Car parks will naturally endure a fair amount of wear and tear depending upon the level of vehicular traffic. This is why car park surfacing should be undertaken once every decade. Re-surfacing this area will provide an additional layer of protection; saving you time and money in the long run.
Drainage Issues
The surface of a car park will inevitably be impacted if there are nearby drainage problems. Standing water can cause cracks to form and if this is allowed to continue, the water may permeate the subsurface and lead to potholes. Ensure that the proper number of storm drains are in place and regularly check for a buildup of debris that may lead to clogs during a heavy rainstorm.
Dealing with Emerging Cracks
Cracks will inevitably occur from time to time. These are caused by issues such as:
Vehicular traffic.
Thermal expansion and contraction.
Changes in the subsurface (such as the emergence of nearby tree roots).
While cracks are normal, they still need to be dealt with in a timely fashion. Rubberised emulsions can be used to fill in any small cracks. This mixture can help to prevent the crack from becoming wider and it will extend the lifespan of the car park.
When it comes to surface maintenance, there are many things you can do on your own. However, if the task is too big or dangerous for a DIYer, then we recommend calling Jordans Surfacing in Calgary for help! We offer professional and reliable services that will leave your property looking new again without breaking the bank. Check out our website today to learn more about what we offer!