When it comes to car park resurfacing, there isn't any job that Jordans Surfacing can't undertake for you or your business. Here are some of the most common jobs we are asked to carry out for our customers.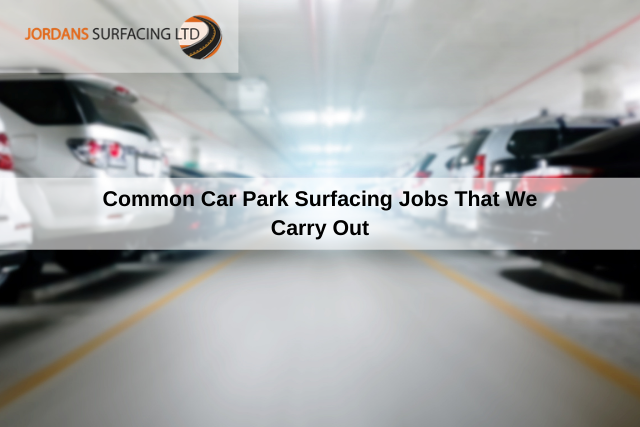 Tarmac, Asphalt, and Resin Bound
We only use the best quality tarmac or asphalt to create your parking surface, whether it's for a residential property, or for a massive multi-storey car park. By using high-quality materials, we can ensure that your car park stays in the best condition possible for many years to come.
Resin-bound surfaces are another option that is gaining popularity when it comes to car parks. Not only is it low maintenance, but it's very hard-wearing, and will be more resistant to chips and cracks. Vehicles are also less likely to slip on resin-bound surfaces, making it a safer option.
Block Paving
This is probably the most aesthetically pleasing option when it comes to creating a car park or driveway. Not only does it look great, but our customers can choose from different patterns and colours when selecting a design for their car park.
However, there may be slightly more maintenance for you with this option, especially regarding jet washing the car park and dealing with pesky weeds in between the blocks. However, it can be easy to repair, as the blocks are separate and it's easy to simply replace one or two if they become damaged.
Car Park Maintenance
Depending on how much a car park is used, and by what kind of vehicle, a quality car park should last at least 20 years. However, we recommend that maintenance is carried out roughly every 10 years to ensure your car park is safe to use for your staff and customers.
This could mean just fixing some potholes and cracks on the surface, or it could mean completely resurfacing the car park altogether, with a new layer of asphalt or tarmac. With our help, your car park will soon look as new as the day it was created.