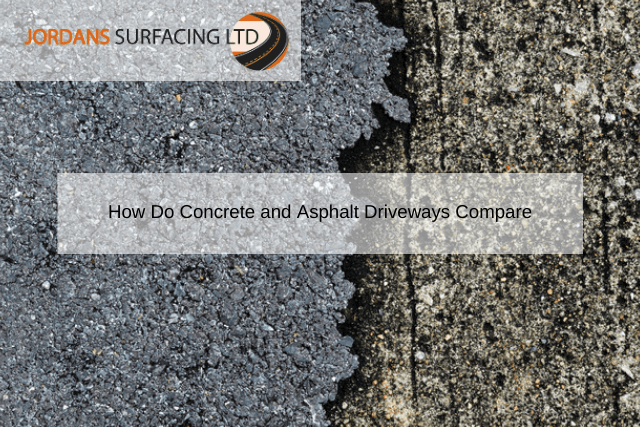 Driveways need to be able to withstand the elements while providing your home or business with a bespoke visual appeal. While there are numerous solutions available, two of the most common surfacing options are concrete and asphalt (tarmac).
Still, there are some major differences between each material. What are their pros and cons? If you require a driveway repair or should you be considering a new installation, the information found below will shed some light on this rather interesting topic.
The Benefits of Tarmac
Many experts feel that tarmac driveways are the most logical solutions due to their cost-effective nature. Furthermore, tarmac cures almost immediately. This is not the case with concrete, as this substance will generally require up to a week of drying time before cars can be parked upon its surface.
Maintenance is relatively straightforward and due to the fact that tarmac is a somewhat flexible material, it will flex with changes in temperature. Cracking is therefore much less likely to occur.
What About Concrete?
Concrete is the more expensive option due in part to a somewhat time-consuming installation process. While concrete does not generally require frequent repairs, those which do occur can cost quite a bit. Concrete patches are also more noticeable than those found within asphalt.
Stains (such as oil and petrol) will not blend into the concrete. Asphalt tends to mask the majority of discolourations. However, it is only fair to observe that a well-maintained concrete driveway can last for up to ten years longer than asphalt (30 as opposed to 20 years).
This might make a difference for those who have been searching for a more long-term solution.
The variables mentioned above are some of the most noticeable disparities between asphalt and concrete. Each boasts its own unique benefits and potential pitfalls, so it is always a good idea to contact a specialist at Jordans Surfacing. Whether you require a quick repair or an entirely new driveway, you will be amazed with the options currently available.