How To Get Oil Stains Out Of Tarmac
Does your tarmac driveway have unsightly oil stains? It is important to remove the stains. Not only because it is a potential hazard of bikes and cars, but it will eventually seep back through to the surface and damage it. Whether the oil stain is new or old, there are a few tricks you can try to remove oil leaks from tarmac drives.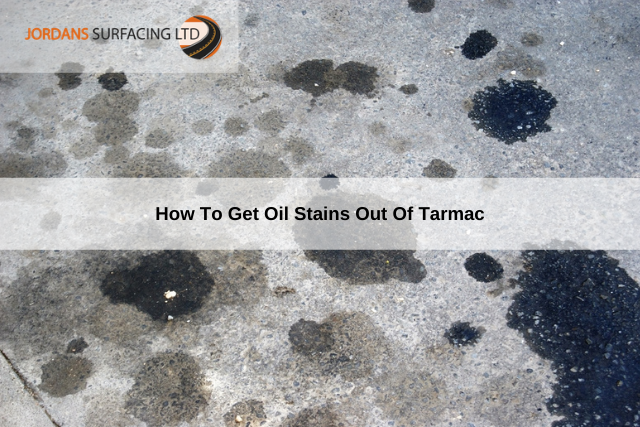 How to Remove Oil Stains from Tarmac
Mop up the fresh and excess oil with an absorbent cloth until you cannot get anymore. After the mop, you need to absorb more of the stain out. You can use several products to draw excess oil, but cornmeal, cornstarch, baking soda, non-clumping cat litter, and sawdust are the most known methods. Cover up the stain with one of the absorbing materials and let it sit overnight. Sweep up the absorbing material and rinse the area with any gentle spray.
The above method should work fine if it is a new stain; however, if it lingers any longer, do not hesitate to give it another try or two. If the oil leak is older, roll up your sleeves, it is time to get to work. You can use cleaning agents such as:
• Dish soap: Put the dish soap directly to the area, add water, and scrub with a hose.
• Baking soda: Sprinkle a generous amount of baking soda to the stained area and scrub with a brush.
• Simple green: Most degreasers and industrial cleaners can help get oil stains out, including a pressure washer.
How hard and how long you need to scrub depends on the age and the size of the oil stain. If you fail in getting the leak out at once, a hearty scrub will definitely make a great change in the area's appearance. Also, avoid cleaning agents containing solvents like citrus.
If the tarmac drive needs a full-blown repair and not just a simple cleaning, reach out to us here at Jordan surfacing LTD. We are an established tarmac firm that offers quality tarmac solutions for both commercial and domestic services. We would be glad to help give you the tarmac parking lot, the stretch of road, or driveway you desire.