Although tarmac and resin are both widely used in car parks and driveway surfacing, both materials are actually rather different. But how do they differ, and which one is right for your needs?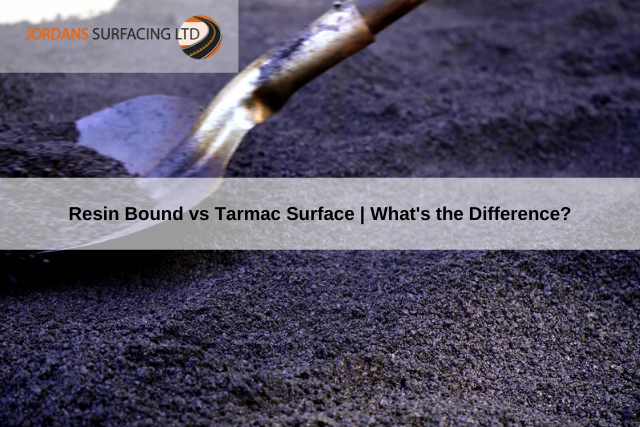 What is Resin?
Resin is a unique material that acts as a glue or adhesive, binding together in order to create a driveway surface that is smooth and even. Unlike tarmac, which is a specific material in and of itself, the resin can be customised to include other colour combinations and materials. Resin is usually created from a combination of gravel, stone, marble and other various rock types.
It is also possible to use resin to create designs and logos, making it suitable for both one of a kind home driveways and corporate car parks too. A durable and long lasting surface, the resin is also permeable, making it easy for water to drain away. Another benefit of resin is that it is easy to adhere to any existing surface for a result that is easy for vehicles to drive across on a frequent basis.
What is Tarmac?
Made from a combination of tar and stone, tarmac is very durable and can withstand extensive amounts of pressure on a regular basis, making it ideal for car parks and driveways alike.
Its combination of small broken stone and tar pieces means that tarmac can be laid easily and smoothly, making it the perfect flat surface for vehicles to frequently drive over. Tarmac is also an extremely malleable choice of surface, which can be laid on its own or on top of other materials, such as concrete, in order to create an even more long lasting flat parking surface.
Which Surface is Right for You?
As resin bound and tarmac surfaces are both great choices when it comes to driveway surfaces, it can be hard to decide which may be right for your needs. Whilst both are very durable and simple to lay, tarmac may be the better choice for those looking for a budget friendly option.
Resin is ideal for those who want to be able to customise their parking area, with more scope for different colour and design options. For more information, Jordans Surfacing provides all you need to know about all types of resin bound and tarmac surface driveways, including the best option for car park surfacing. Contact our expert team today for more information.