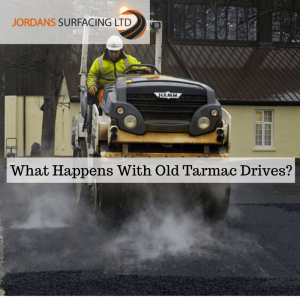 What Happens When Old Tarmac Drives Have Outlived Their Usefulness?
Tarmac is a material renowned for its ability to withstand the elements while offering years of nearly maintenance-free use. These are some of the reasons why this substance is a popular option for driveways and walkways. However, the fact of the matter is that tarmac will eventually break down.
There are two options in this situation. There can be times when a new layer is applied over the existing surface. When performed by a professional, you will be able to breathe new life into what might have initially appeared to be an outdated driveway. Still, there can be other instances when the entire surface needs to be removed in favour of a new build. Can tarmac be recycled? Let's take a closer look.
Reclaiming Old Tarmac
Let us assume for a moment that you have consulted with a professional company in hopes to tarmac a drive. In the rare event that the old asphalt is in extremely poor condition, it might very well be possible to recycle this material. You might be surprised to learn that the need for reclaimed asphalt pavement (RAP) is on the rise. Reusing this material can help to dramatically reduce the coasts associated with motorway construction across the United Kingdom. In fact, the National Asphalt Pavement Association (NAPA) has estimated that nearly 70 million tonnes of RAP are employed within the road construction industry every year.
Where Might These Materials be Used?
Assuming that you have chosen to recycle your old asphalt, you might be able to encounter a centre which is capable of picking up this material at no extra cost. The majority will be reclaimed for a host of unique purposes such as:
Roads and motorways
Pavements
Walkways within parks and other public spaces
Formulations for new tarmac mixes (both residential and commercial uses)
It is nonetheless important to point out that an old tarmac driveway could very well be salvaged with the help of professionals. This is when the team at Jordan Surfacing can be of assistance. Please speak with us for additional details.