A dropped kerb is a wedge-shaped piece of concrete that is embedded in the ground to prevent cars from parking on the pavement or lawn. They are usually designed with a pointed edge and a flat bottom, so that they protrude into the space next to parked cars. It can also be called a "parking stop" or "tilt up."
What is the Purpose of a Dropped Kerb?
Dropped kerbs are used to prevent cars from parking too close to a pedestrian path or driveway, and can also be used for wheelchair access. They have been recommended by the Department of Transport in England since 2010. Many homeowners and landowners use them for their convenience, but they are also used by the council to prevent cars from obstructing driveways and pavements.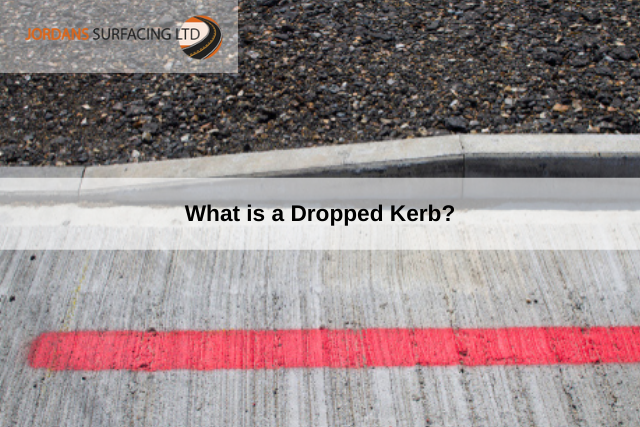 What Benefits do Dropped Kerbs Offer?
The main benefit of a dropped kerb is to allow easier access for pedestrians, cyclists and wheelchair users. They can also help to improve the look of a property or area by creating a more defined edge.
If you have a tarmac drive installed, then having a dropped kerb installed will help to define the edge of your driveway and prevent cars from obstructing it. If you already have a block paved drive, then having a dropped kerb installed can create a more defined dividing line between the road and your property.
In addition to being easier and safer access, a dropped kerb also provides extra drainage for rainwater. This is because the kerbs help channel water away from your property onto nearby drains- an important consideration if you live in low lying areas prone to flooding!
Do I Need Planning Permission?
In order to have a dropped kerb installed on your property, you will need to apply for planning permission from the local council.
It is important that this type of work is carried out by a professional like the experts at Jordans Surfacing so as not to create potential trip hazards and cause damage to your property, roads or pavements.
If dropped kerbs have been installed properly and with suitable drainage, they are exempt from needing building regulations approval if they don't interfere with adjacent properties or create a potential obstruction on major roads that have regular transport links and are frequently utilised by the emergency services.
If you are unsure whether you require planning permission, get in touch with your local council to check – they will be happy to advise you.
What Is the Cost of a Dropped Kerb?
The cost of having a dropped kerb installed will vary depending on the size and complexity of the job, as well as your location. According to CheckaTrade, the average cost of a dropped is around £600. However, bear in mind that this is a very broad estimate since there are numerous other elements to consider such as the sort of kerbs you want, the distance between your dropped kerb and your property, and so on.
In Summary
Dropped kerbs are an excellent way to make sure pedestrians can easily cross the road, but they do require some careful planning. If you need any help with your dropped kerb project, get in touch today!