There are several ways to improve your home's value, but one essential thing that is often ignored is improving the look of your driveway, patio or path. Here are a few surfacing ideas that can help you get a good price when you sell your property.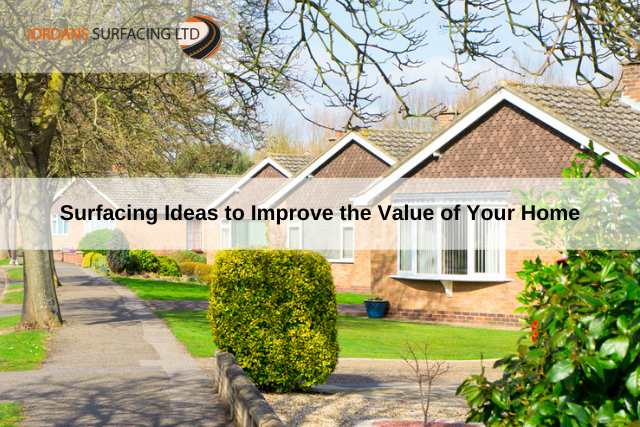 Asphalt and tarmac driveways
At Jordan Surfacing, we provide both tarmac and asphalt driveway solutions. And both materials offer you a smooth and durable surface, which looks amazing and gives buyers a great feeling about the property.
Over the years, any driveway can show signs of wear and tear, so making sure that the surface is in excellent condition will definitely improve the value and appeal of your home.
Tarmac and asphalt are also a decent value for money and very versatile. This makes them perfect materials if you are working on a budget and if you have got a certain tarmac driveway idea.
Consider bold colours
When you think of tarmacadam, you might think of its dull dark black colour. However, today you've several more types of tarmac and colour options.
A coloured tarmac driveway, path, or patio is an impressive solution for those who love to add colour to their design choices.
It also beneficial for those who want an outdoor surface, which fits in with the aesthetic changes there are making to the home.
Colour choices usually include green, blue and red, which offer a more aesthetically pleasing and eye-catching to black tarmacadam.
When it comes to house selling, you should try your very best to show potential buyers that it needs no to little improvements.
Implement creative tarmac surfacing ideas
Implementing creative and unique surfacing ideas isn't only an incredible way to improve the value of your home, but it also makes sure that your property attracts a wider range of potential buyers.
If you want to convert any vacant space into a driveway or you are looking to enhance or expand your existing driveway, contact us. We try hard to offer an exceptional level of surfacing solutions and service that accommodates a range of needs.